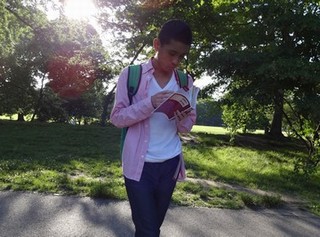 Taisuke Kinugasa  衣笠 泰介
About the artist
Taisuke Kinugasa
Though suffering from autism, at an early age he taught himself how to paint and began producing artworks. He has exhibited works in a large number of individual and group exhibitions, and has won awards at a variety of art competitions.
What distinguishes him as an artist is a striking feeling for color that springs from his rare innate perceptive ability. His particular prism-like internal sensitivity mechanism acts to take in perceived light, amplify it, convert it directly into a rich aggregate of colors, and express the result before the eye.
On the screen, the high-purity colors create contrasts and rhythms that give rise to an autonomous feeling of movement, and this sense of movement, coupled with the freely decorative composition of the screen, evokes in the viewer a sense of fresh surprise and carefree pleasure.
This artist and his world of light are almost too much for us to drink in. His magical world of color, comfortably detached from the memories and interpretations of others, constitutes a revelation from a world of light, a revelation that has been received by this artist alone and which results in paintings that are little less than blessed.
(H.M.)


■ Solo exhibitions
2008 Gallery Miracle … Kyoto
2011 Gallery CASO … Osaka
2012 Gallery Miracle … Kyoto
2013 Gallery Suzuki … Kyoto
2014 Grand Front Osaka North Building, Umekita Floor … Osaka
   Gallery Sora Bigin … Kyoto
   hpgrp gallery … New York
2015 Gallery Little House … Kyoto
   Belle … Sapporo
  Cafe Lattest Omotesado … Tokyo
2016 GK Gallery Ginza, Cafe Lattest Omotesando … Tokyo,Continental gallery…Sapporo
Cafe potto… Osaka
   RYCOM ANTHOLOPOLOGY Plaza House…Okinawa
■ Group Exhibition
2011 Contemporary Art Festival 2011 Biwako Exhibition … Otsu
  Hungary-Japan Cultural Exchange Exhibition … Budapest
2012 Japan-Korea Painting Cultural Exchange Exhibition, Seongnam Arts Center … South Korea
2013 Mori Art Museum, Hiyoshi Taisha Art Festival 2013 … Otsu
2014 Zero Art Japanese Contemporary Art 2014 Award-Winners' Exhibition,
   hpgrp gallery … New York
2015 Midosuji Stroll Exhibition … Osaka
2016 Taeko Kubo & Taisuke Kinugara Joint Exhibition, Daimaru Kobe … Hyogo
2016 Jun Kawajiri & Taisuke Kinugara Exhibition, Hashimoto Kansetsu Memorial Hall … Kyoto
…Tokyo
Hans across the pacific2016…Tokyo,Dalian CHINA
■ Project
Ema votive plaques … Shirakumo Shrine, Kyotogoen (dedicated June 15, 2011)
Live hand-painting of 25 m of silk … Kamedatomi Dye Factory (April 15, 2014)
■ Business collaborations
Onward Kashiyama
Sacra Japan
Pagong Kamedatomi Dye Factory
Daitou Shingu Kogyo
Hara Senkou Dye Factory
Keihan Agency
■ Awards
2009 Selected for All-Japan Art Salon Painting Grand Prize Exhibition (also selected in 2013)
2010 Selected for the 36th Showa Art Association Exhibition
2014 New York Contemporary Art Zero Art Exhibition Award of Excellence
■ Permanent Display
Gallery Miracle…KYOTO
■ Standing exhibition
Gallery Miracle (Taisuke Kinugasa)
衣笠泰介 プロフィール
■ 個展
2008  ギャラリーミラクル … 京都
2011   ギャラリー CASO …大阪
2013  ギャラリーすずき …京都
2014  グランフロント大阪北館ウメキタフロア…大阪
    ギャラリー黎 …京都
    hpgrp ギャラリー …ニューヨーク
2015  ギャラリーリトルハウス…京都
ベル… 札幌 、ラテスト表参道 … 東京
2016   GKギャラリー銀座、ラテスト表参道…東京
    CONTINENTAL GALLERY…札幌
    カフェ potto…大阪
    RYCOM ANTHOROPOLOGYプラザハウス…沖縄
■ グループ展
2011  CAFNびわこ展 …大津
    ハンガリー日本交流展…ハンガリー・ブダペスト
2012 日韓絵画交流展、ソンナムアートセンター…韓国ソンナム
2013  杜の美術館・日吉大社芸術祭2013…大津
2014  Zeroart Japanese Contemporary Art 2014 受賞展,
    hpgrp ギャラリー …ニューヨーク
2015  御堂筋そぞろ歩き展…大阪
2016  大丸神戸店 久保多恵子&衣笠泰介展 …神戸
川尻潤×衣笠泰介展…白沙村荘橋本関雪記念館
    Get in touch 'Warm Blue MAZEKOZE Art'展 ・・・ 東京
    瀬戸市ボーダレスアート展・・・瀬戸
    環太平洋展・・・大連、中国
■ プロジェクト
絵馬制作 … 京都御苑内白雲神社(2011)
手描き友禅25mライブペイント …Pagong亀田富染工場(2014)
■ 企業コラボレーション
オンワード樫山/和小物さくら/原染工/京阪エージェンシー/大東寝具工業
■ 受賞
2009 全日本アートサロン絵画大賞展入選(2013年同)
2010 第36回 昭和美術会展入選
2014 ニューヨーク現代美術 Zeroart展 優秀賞
■ 常設展示
ギャラリーミラクル
■ web
http://taisuke-kinugasa.com/blog/
https://www.facebook.com/kinugasataisuke/
http://miracle-art.jp/taisuke-profile.html
■ contact Gallery Miracle Tamami Kinugasa
〒604-8274京都市中京区小川通り三条上る西堂町510-1
tel 075-252-2389 080-1420-3273 fax 075-212-3028 kinugasatami@me.com
Paintings&art goods Taisuke Kinugasa